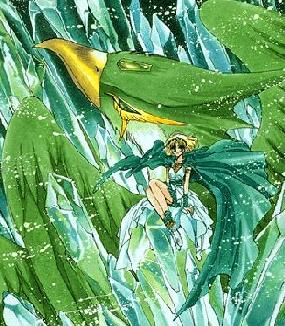 Name-Fuu Hououji
Grade-Eighth
Birthday-December 12
Sign-Sagitarius
Blood Type-A
Favorite Food-Tessa (Raw slices of Blowfish...yuck!)
Least Favorite Food-Anything not tasty
Favorite Subject-Math
Least Favorite Subject-Art
Hobbies-Reading,Computer programing
Future Goal-Computer System Engineer
Name Means-"Light of the Pheonix Temple"
Personality-Fuu is kind and generous to just about everyone. She is what you would call the Genius of the story. Her boyfriend is Ferio. Her best friends are Hikaru and Umi. She lives with her father,mother,and older sister. Fuu was also the first one to upgrade her sword. She usually provides all the answers because she is so smart.
Here are some Fuu pics. One is an animated gif.